Welcome!

Welcome to VENTURA PROMOS A Division of Ventura Graphix, Inc. We could be reached at 661-412-2737, Monday - Friday from 9am to 5pm pacific standard time.
42309 10th Street West
Lancaster, CA 93534
(661) 412-2737
Featured Item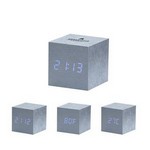 MoMA Alume Cube Clock
Designed by Natalie Sun, the Alume Cube Clock has a textured surface. Snap your fingers or tap the cube and the green LED display reveals the time, date and temperature and after a few seconds the dis...